The Shamrock Club
Does anyone recognize this cap?
The MS&T Archives would like to identify this cap.
Could it be from a sports team, freshman beanie or ???
Could you please help us solve this mystery?
The first mention of the Shamrock Club is in the 1938 Rollamo. This club was first organized as the MSM Forum for the purpose of obtaining meals at a more economical figure. In 1941 the purpose expanded to interest in social activities and school work. Members are selected by a board on the basis of economic need and their personality. It seems that the club was reorganized in 1955, to provide meals, a chance to unite with others and participate in campus activities and intramural sports. In 1960 the Shamrock Club was one of five eating clubs on campus, winning the Intramural Basketball title. By 1967 the membership climbed to 250 men and women. In 1968 the Club was located at 1107 Pine Street. They sponsored a float and dance for St Pat's weekend, dances for all party weekends, and a dance for local teenagers to foster Miner-Rolla citizen relationships. In 1970, the club sponsors benefit as well as social dances and has the second highest grade point average among the eating clubs. This is the last entry in a Rollamo that I have been able to find for the Shamrock Club. During this past Homecoming Weekend, this office received additional information about the Shamrock Club from Oscar M. Muskopf `42. He recalls eating at the Shamrock Coop, 3 meals/day for six days and 2 meals on Sunday, with a cost divided between the eighty or so members. They each put in $15.00 per month. All meals were home cooked, healthy and tasty. Always a desert, many a home baked pie or cake, sometimes homemade jelly form local grapes. There was all the milk you wanted. If anyone else can provide more information about this or the other eating clubs on the MSM/Missouri S&T campus please contact our office. We would like to include some more information about these clubs in a future Alumnus article.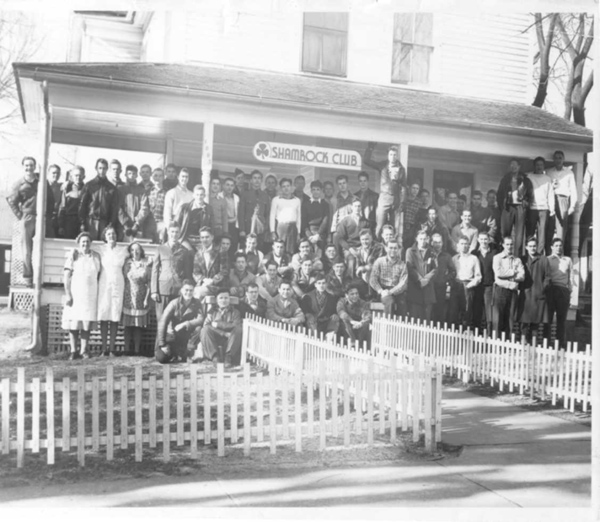 The first Shamrock club in 1938, Rollamo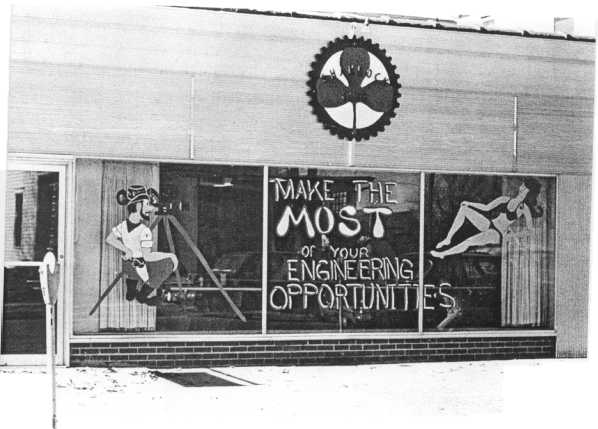 The Shamrock club in 1960, 1107 Pine Street.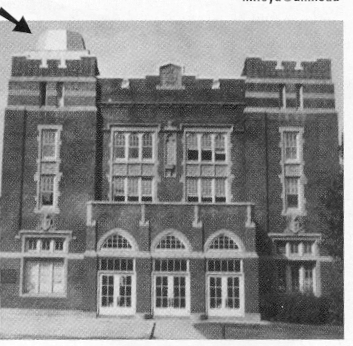 Question:
Can anyone identify this object that appeared on top of the southwest tower of the old Jackling Gymnasium in the 1940s? 
Answer:
Prof.C.E. Bradsley worked out entirely new methods for determining meridian from stellar observations. Dr. S. R. B. Cooke completely built a 10-inch reflecting telescope for astronomical research, and mounted it on the southwest tower of Jackling Gymnasium.